Posts for: March, 2014
By Crystal Falls Dental
March 18, 2014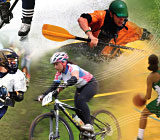 Sports are an important element in human society — besides providing enjoyment they also build discipline, teamwork and character.
But sports activities, especially for children and teenagers, also carry the risk of physical injury — and your teeth and mouth aren't immune. About 22,000 mouth injuries occur annually in individuals under the age of 18. As the degree of contact within the sport rises, so does the risk of dental injuries.
To reduce this risk, it's important to adopt a comprehensive approach to dental injuries, beginning with protection. For any sport that involves a ball, stick, puck or physical contact with another player, athletes should incorporate two pieces of equipment to fully protect against mouth injury: headgear and a mouthguard. Both help to evenly distribute the forces generated during an impact and thus reduce the chance or severity of injury.
The design of headgear will depend on other factors involving a particular sport. Mouthguards are more singular in their purpose, and so what works in one sport should work in another. While there are a number of types like stock or "boil and bite," the highest level of protection is a custom-fitted mouthguard created by a dentist to specifically fit the individual's bite. Although more costly than other options, it can better reduce the chances of an even more costly mouth injury.
Because we can only reduce the risk of injury but never eliminate it, protection is only part of the approach. Individuals, parents and sports officials should have plans in place for treating dental injuries should they occur. Depending on the level of trauma, individuals should have access to a dentist as soon as possible. It's also important to know what to do when specific injuries occur, whether they require an immediate, urgent or less urgent response. The Dear Doctor magazine article, "The Field Guide to Dental Injuries" is an excellent primer on dental injury treatment.
Sports can have a positive effect on physical, emotional and social development. Adopting a well-rounded approach to dental injury prevention and treatment will help keep the focus on those benefits.
If you would like more information on protection and treatment from sports-related dental injuries, please contact us or schedule an appointment for a consultation. You can also learn more about this topic by reading the Dear Doctor magazine article "An Introduction to Sports Injuries & Dentistry."
By Crystal Falls Dental
March 03, 2014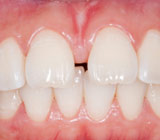 We all know Madonna, Seal, David Letterman, Anna Paquin and Michael Strahan (of the talk show Kelly and Michael). What do all of these celebrities have in common? Each has a "signature gap" between their front teeth. Given that they have been in the public eye for quite some time, it's not likely that these famous faces will choose to change their well-known smile. In fact, Michael Strahan has publically stated that he will never close his gap.
However, it is not uncommon for people to desire to fix a small gap in their teeth, particularly in advance of important events, such as weddings. Often times, fixing this small gap requires relatively simple orthodontic movements or tooth straightening. Since the teeth don't have to be moved very far, we can usually use simple appliances to correct the issue within a few months.
In order for us to determine your course of treatment, you'll need to make an appointment with our office for a thorough examination. When we examine you, we'll be looking for a number of items that will affect our treatment recommendation:
Is there enough room to close the space without creating other bite problems?
Are the roots of the teeth in reasonably good position to allow for minor tooth movement to close the space? X-rays will be required to make a proper assessment.
Is there an involuntary tongue habit that has pushed the teeth forward and created the gap? If so, this could be difficult to fix quickly.
Are the surrounding gum tissues and bone healthy?
Based on our assessment and your individual needs, we may recommend one of the following options:
Clear retainers, a computer-generated series of clear retainers customized for your bite to move the teeth
Removable orthodontic retainers to which we will attach small springs or elastics to facilitate the minor tooth movement
Traditional fixed orthodontic appliances (most commonly known as braces), small metal or clear brackets bonded to your teeth through which tiny wires are used to move the teeth
Regardless of the method we choose, once your teeth have moved into the new position, it is important for you to remember that they must be kept in this position until the bone stabilizes around the teeth. We may therefore advise you to wear a retainer for a few months to a few years, depending on your situation.
If you would like more information about orthodontic treatments, please contact us or schedule an appointment for a consultation. You can also learn more by reading the Dear Doctor magazine article "Minor Tooth Movement."