Posts for tag: fillings
By Crystal Falls Dental
August 04, 2016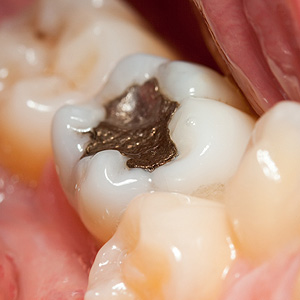 With all the new tooth-colored fillings for cavities, it's easy to overlook metal amalgam. While this mainstay of dental care for over a century might not be as attractive as composite resins or glass and resin ionomers, it still has the advantage of strength and durability.
Amalgam is a stable metal alloy usually made up of silver, tin, copper and mercury. The metals are proportioned and mixed precisely to guard against "free" mercury molecules, which could pose a health hazard. The mixture is pliable at first, but then sets hard once molded into the prepared area of the tooth.
Besides strength, amalgam's other advantages include low cost, high resistance to wear and biocompatibility (not toxic to the body or allergy-producing). At the same time, it can require more tooth structure removal to accommodate a filling and cause higher sensitivity to temperature for a while after installation. Its main disadvantage, however, is appearance — it's now considered unacceptable from an aesthetic point of view to use it in visible areas like the front teeth.
Because of this, materials resembling natural tooth color are coming into vogue, especially as their strength improves. Still, dental amalgam continues to play a useful role, especially in less visible back teeth with higher chewing forces.
One past concern about dental amalgam is the inclusion of mercury in the alloy. As mentioned before, mercury is hazardous in a "free" form when not knit microscopically with other metals; as such it can emit a vapor that could enter the bloodstream and damage the nervous system. But after several studies by various organizations, the American Dental Association has concluded amalgam's precise mixture prevents the mercury from taking this form: although some vapor is given off during chewing it's far too low in concentration to pose any danger.
Dental amalgam continues to be an effective choice for fillings. Whether it's the right choice for you will depend on the type and location of a tooth to be filled, and whether durability is a higher concern than appearance. If we do recommend an amalgam filling, you can be assured it's a safe and lasting choice.
If you would like more information on your choices for dental fillings, please contact us or schedule an appointment for a consultation. You can also learn more about this topic by reading the Dear Doctor magazine article "Silver Fillings — Safe or Unsafe?"
By Crystal Falls Dental
September 07, 2015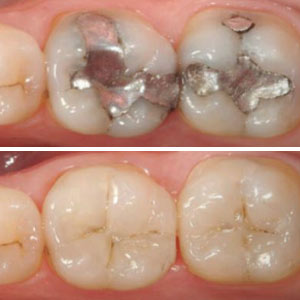 For over a hundred years dental amalgam — a combination of silver, mercury, tin and other metals — has been an effective filling material for teeth damaged by decay. But it has one major drawback — its metallic appearance stands out in stark contrast to the natural color of teeth.
As an alternative, composite resin fillings can match the color, shape and texture of natural teeth. These materials and the techniques used to bond them are proving just as effective as and more aesthetically pleasing than dental amalgam.
Fillings help protect and preserve a decayed tooth. By first removing decayed tooth structure through drilling, the resulting void is filled with durable material that strengthens the tooth and provides it protection from further decay.
The ultimate goal for restoration is to return the tooth to as near normal form and function as possible. Dental amalgam serves well in terms of function, providing the tooth strength in the face of the daily biting forces it encounters. In contrast, composite resins excel in appearance, but haven't always matched the durability of amalgam. They're material construction has improved over time, though, as well as the techniques used to bond them to teeth.
Most of these bonding techniques incorporate layering. The first step is to seal the dentin (the porous, living tissue just below the enamel); we then build up the composite material layer by layer within the tooth using special bonding adhesive and curing lights. In some cases where a large volume of tooth structure must be replaced, the restoration is first formed on the tooth and then removed for curing before being cemented into the tooth or a separate restoration is formed by a dental lab.
The end result is a tooth which both looks and functions like a fully intact tooth. Though care must be taken not to subject composite resin restorations to undue forces (no cracking open nutshells, for example), your new filling should continue to serve you and look great for a long time to come.
If you would like more information on metal-free restorations, please contact us or schedule an appointment for a consultation. You can also learn more about this topic by reading the Dear Doctor magazine article "The Natural Beauty of Tooth Colored Fillings."
By Crystal Falls Dental
May 12, 2014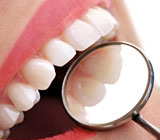 Are tooth-colored fillings safer than silver fillings?
No. Both are considered safe based on the most reliable and up-to-date scientific evidence. Still, tooth-colored fillings do have some definite advantages. Not only do they blend in with your smile far better than "silver" (dental amalgam) fillings, but they often require less removal of healthy tooth structure. That's because in order to fill a tooth with amalgam, it is necessary to create indentations in the tooth called "undercuts" to hold the amalgam in; this requires the removal of some healthy tooth material. With a tooth-colored filling, we need only remove the decayed part of the tooth to place the filling.
Are there any disadvantages?
Yes, tooth-colored fillings don't always wear as well as metal fillings — particularly on back molars where they are subjected to the most stress from chewing. They are also more expensive and less likely to be fully reimbursed under dental insurance plans.
Are there different types of tooth-colored fillings?
Yes, three different choices of tooth-colored fillings are available:
Composite — This mixture of plastic and glass is the most common type of tooth-colored filling. Newer materials can hold up almost as long as amalgam fillings and look very natural, though they can stain over time just as natural teeth do.
Porcelain — High-tech dental ceramics are considered the most aesthetic choice of filling material. They don't stain as composites can, but their relatively high glass content can make them more brittle and prone to breakage. They may be more expensive than composites.
Glass Ionomer — Made of acrylic and glass powders, these inexpensive, translucent fillings blend in acceptably well with natural teeth and have the advantage of releasing small amounts of fluoride to help prevent decay. However, they generally don't last as long as other restorative materials.
We would be happy to offer guidance on which choice would be best in your own unique situation.
If you have any questions about tooth-colored fillings, please contact us or schedule an appointment for a consultation. You can learn more by reading the Dear Doctor magazine article "The Natural Beauty of Tooth-Colored Fillings."