Posts for tag: root canal
By Crystal Falls Dental
October 31, 2018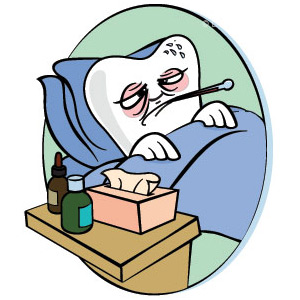 Which would you rather have — the flu or a root canal procedure? Nearly 80 percent of people recently surveyed by the American Association of Endodontists wisely chose the root canal. If this takes you by surprise, then let us bring you up to date on root canal treatment today. It's nothing like the experience that once made it the butt of jokes and a benchmark against which other "undesirable" experiences were measured.
The term "root canal" actually has two meanings. It is part of the pulp-filled chamber at the center of every tooth containing nerves and blood vessels that keeps teeth vital (alive). It's also the endodontic (endo  = inside; dont = tooth) procedure that treats inflammation and infection in this tissue. Common causes of pulp problems are traumatic damage (for example a crack, chip, or root fracture), deep decay, or gum disease.
The first sign of a problem is typically pain — ranging from acute and intense pangs when biting down, to lingering discomfort after consuming hot or cold foods, to a chronic dull ache and pressure, or tenderness and swelling in nearby gums. The primary pain may abate as the nerves in the pulp die, but the infection will continue, compromising the affected tooth, jeopardizing the health of the surrounding tissues, and often triggering secondary pain.
Pain-Relieving, Tooth-Saving Treatment
Endodontic treatment, by contrast, is no more uncomfortable than having a cavity filled. The tooth and surrounding area are numbed with a local anesthetic before the procedure begins. In order to access the diseased pulp, a small opening is made in the biting surface of the tooth. Tiny instruments are used to remove the pulp, clean and disinfect the root canal(s) and pulp chamber, and prepare the empty tooth interior to receive a biocompatible filling material to prevent bacteria from returning. A permanent crown may be placed over the tooth at that time, or a second visit may be needed. A crown (cap) is important to the tooth's long-term strength and functionality.
For a day or two following treatment you may experience temporary sensitivity, which often responds to an over-the-counter medication like ibuprofen. Occasionally, prescription medications, including antibiotics, may be needed.
All in all, doesn't saving a tooth sound easier and more constructive than coming down with the flu?
If you would like more information about root canal treatment please contact us or schedule an appointment for a consultation. You can also learn more about the subject by reading the Dear Doctor magazine article "A Step-By-Step Guide To Root Canal Treatment."
By Crystal Falls Dental
January 13, 2015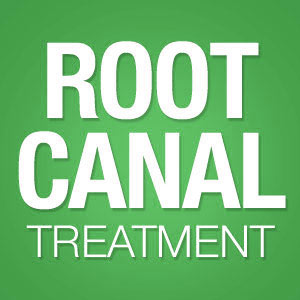 The term "root canal" is a part of our social lexicon, and not always with a positive meaning. But contrary to its negative reputation, a root canal treatment can make all the difference in your dental health.
Here are 3 things you may not know about this important procedure.
A root canal treatment is a "tooth" saver. Decay deep inside the tooth pulp puts the entire tooth at risk. The infection not only destroys nerves and tissue in the pulp, it has a direct path to the root through tiny passageways known as root canals. By cleaning out this infected tissue, then filling the empty pulp chamber and the root canals with a special filling, the procedure stops the disease from further harm and seals the tooth from future infection. Without it, it's highly likely the tooth will be lost and other teeth threatened by the infection.
A root canal doesn't cause pain — it relieves it. The biggest misconception about root canal treatments is their supposed painfulness. That's just not true, thanks to anesthetic techniques that numb the teeth and gums — and any discomfort afterward is quite manageable with mild anti-inflammatory drugs like ibuprofen. The procedure actually stops the real pain, caused by the infection damaging and finally killing the tooth's nerves, when it stops the infection.
Root canal treatments are even more effective thanks to recent advancements. Not all infected tooth situations are the same: some teeth have smaller offset passageways called accessory canals that grow off a larger root canal that can be quite difficult to detect and access. Missing them can leave the door open for re-infection. In recent years, though, endodontists, specialists in root canal disorders, have improved the way we address these complications using advanced technologies like specialized microscopic equipment and new filling techniques. The result: a lower risk of re-infection and a higher chance of long-term success.
Hopefully, you'll continue to enjoy good dental health and won't need a root canal treatment. But if you do, rest assured it won't be the unpleasant experience you might have thought — and will be a welcomed solution to pain and threatening tooth loss.
If you would like more information on root canal treatments, please contact us or schedule an appointment for a consultation. You can also learn more about this topic by reading the Dear Doctor magazine article "A Step-By-Step Guide to Root Canal Treatment."
By Crystal Falls Dental
August 29, 2014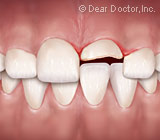 When a permanent tooth has been injured, our first priority should be to save it. A root canal treatment (where the interior pulp of the tooth is removed and the pulp chamber and root canals are filled and sealed) is usually the best approach for tooth preservation.
An immature permanent tooth, however, presents a different challenge. While the pulp is less essential to a mature tooth's vitality, it serves a critical purpose in the tooth's early development before early adulthood. The pulp produces layers of dentin necessary for the tooth's root system development. Completely removing the pulp at this stage may retard root development and cause the tooth to eventually weaken, and become brittle and darkened.
For younger teeth, we should therefore use alternative techniques that preserve as much healthy pulp as possible. One of these alternatives is Indirect Pulp Therapy, used when the pulp hasn't been exposed by the trauma. With this technique we remove as much damaged dentin as possible while preserving the harder dentin closer to the pulp. After applying an antibacterial agent to protect against infection, and then filling and sealing the tooth, the pulp can continue to produce dentin in a normal way.
If pulp exposure has occurred, some form of pulpotomy — the partial removal of any damaged or infected pulp — would be in order. Our goal here is to leave as much of the pulp as possible, and then apply substances that stimulate the remaining pulp to create dentin. The most common type of growth substances are calcium hydroxide or mineral trioxide aggregate (MTA).
If the pulp isn't at all salvageable, we may then turn to a procedure known as apexification. After removing the pulp we insert MTA at the root end of the tooth, then fill and seal the remaining interior as in a regular root canal treatment. The MTA will help the surrounding bone to heal and continue to grow around the root to further support the tooth.
Recent research into pulp stem cells promises further advances in this area. The regenerative qualities of stem cells could eventually help us "engineer" root development. Until then, there are still effective ways to give a young, damaged tooth a fighting chance to survive.
If you would like more information on preserving injured teeth, please contact us or schedule an appointment for a consultation. You can also learn more about this topic by reading the Dear Doctor magazine article "Saving New Permanent Teeth After Injury."