Posts for tag: tads
By Crystal Falls Dental
May 15, 2015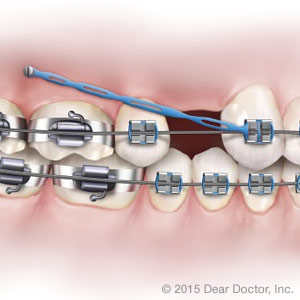 As a basic orthodontic appliance, braces are what allows us to move teeth into better positions to improve a person's bite. In certain cases, though, this treatment application gets a little assistance from Temporary Anchorage Devices (TADs) to improve accuracy and reduce treatment time.
Braces take advantage of our teeth's natural ability to move. Teeth are held in place within the bone by the periodontal ligament, an elastic tissue that attaches to the teeth with microscopic fibers secured by a hardened substance called cementum. The periodontal ligament is constantly remodeling in response to changes in the mouth. As pressure is placed on a tooth, new bone, ligament and cementum are formed on the "pulling" side of the tooth; on the other side, the bone and ligament dissolve (resorb), allowing the tooth to move in that direction.
Braces allow this natural process to occur with controlled forces applied by thin flexible wires threaded through the small brackets attached to the front of the teeth and then affixed or "anchored" to other teeth. By attaching the teeth to the other teeth by wires running through all the brackets, "anchorage" is created to allow teeth to be moved where the dentist wants them to go. By adjusting the tension on the wires, we can apply light but constant pressure on the "unanchored" teeth to move them into a new desired position.
Teeth we do not want to move are referred to as the anchorage for teeth we do want to move. If, however, the situation calls for more precise isolation of teeth to be moved, TADs can be very useful. TADs are mini-implants imbedded in the bone to serve as anchorage at strategic locations in the mouth. In this way, the group of teeth to be moved receives forces that are applied through the additional anchorage provided by the TADs. That "tension" or "pressure" is applied only to them and not to adjacent teeth that should not move. This increases efficiency for tooth movement and helps reduce the treatment time.
TADs can be placed using local anesthesia and with little discomfort, and are removed when orthodontic treatment is completed. Although the procedure is pretty straightforward, it does require collaboration between orthodontist and surgeon to ensure correct positioning.
In the end, TADs increase our ability to control the forces that move teeth during orthodontic treatment. This lessens discomfort for the patient and helps ensure the end result — a more functional bite and a transformed smile.
If you would like more information on the use of TADs and other orthodontic appliances, please contact us or schedule an appointment for a consultation. You can also learn more about this topic by reading the Dear Doctor magazine article "What are TADs?"
By Crystal Falls Dental
September 23, 2014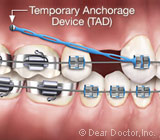 Braces are certainly the most recognized means for moving misaligned teeth. But depending on your or your family member's particular malocclusion (bad bite), your orthodontist may also include other "anchorage" appliances to achieve the best results.
We can move teeth because of a mechanism that already exists in the mouth. The periodontal ligament, which holds teeth in place by attaching the tooth surface to the jawbone, allows teeth to move if needed in response to biting forces or normal tooth wear. Using braces or similar appliances, orthodontists can apply gentle but constant pressure to move teeth to new and better positions.
This applied pressure, however, soon encounters an "equal and opposite reaction," in accordance with Newton's third law of motion. In a way, we're playing tug-of-war with the periodontal ligament — and as in the playground game, the key to "winning" is having the stronger point of resistance, something we call anchorage.
We often use the teeth themselves to establish this anchorage with the help of elastics (rubber bands) attached at various locations in the braces. Sometimes, though, the situation requires a different form of anchorage. In a younger patient, for example, we may want to influence the facial structure's growth and development along with tooth movement. In this case we might use the patient's skull for additional anchorage by having a strap running around the back of the head that attaches to brackets affixed to the teeth.
Another method involves a temporary anchorage device (TAD) directly implanted into the jawbone. We use TADs to isolate teeth we want under pressure from teeth we don't (as with moving front teeth back without causing the back teeth to move forward). Usually made of stainless steel that won't fuse with bone, TADs are relatively simple to remove once treatment is complete. Another form of anchorage is a titanium micro-implant, a miniature version of a dental implant that's also inserted into the bone; like its larger relative, micro-implants fuse with the bone to add greater stability. Their diminutive size, however, eases any difficulty in their eventual removal.
Though some of these appliances aren't visually appealing, they are temporary in nature and only applied for as long as needed. The end result, though, is permanent — beautifully aligned teeth that perform well and look great.
If you would like more information on orthodontic appliances, please contact us or schedule an appointment for a consultation.
By Crystal Falls Dental
December 27, 2013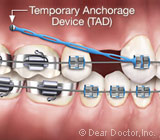 The field of orthodontics continues to progress with new and innovative techniques. One such innovation is known as a TAD — Temporary Anchorage Device. Best described as "mini-implants," TADs provide orthodontists with more precise control over the movement and positioning of certain teeth that could reduce treatment time.
Braces, the most common form of orthodontic device, are small brackets affixed to the outside of the teeth. We thread small flexible wires through the brackets which in turn apply gentle pressure to the teeth. This puts pressure on the periodontal ligament, an elastic tissue that holds the teeth in place to the jawbone. The ligament has small fibers that insert into the teeth and are held there by a substance called cementum. The pressure on the ligament causes it to form new bone, ligament and cementum as it moves into the new desired position.
Of course, each orthodontic case is different. The best outcome for some patients is to move only certain teeth, while minimizing movement on others. This involves a concept in orthodontics known as "anchorage," a planned circumstance where certain teeth or groups of teeth are immobilized (or "anchored") to prevent movement.
TADs do just that — they are, in effect, mini-screws or implants temporarily placed in the jaw bone to inhibit movement of a specific tooth or group of teeth, while not interfering with the movement of the misaligned teeth. These tiny devices are typically installed using only local anesthesia to numb the general location of their placement, and then removed when orthodontic treatment is completed.
TADs are part of an overall strategy to correct poor bite and teeth misalignment in the most precise and efficient way possible. They require planning, sometimes through consultation with different dental disciplines, to assure that their placement won't damage nerves, sinuses or other vital structures. Their use, though, could help shorten treatment time with braces, and help contribute to the best possible outcome — a new smile.
If you would like more information on transitional mini implants, please contact us or schedule an appointment for a consultation. You can also learn more about this topic by reading the Dear Doctor magazine article "What are TADs?"